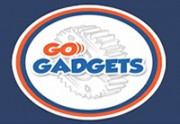 Go Gadgets Phone Repair of Las Vegas has helped cut down on E-Waste by purchasing used phones, broken phones and repairing phones
Las Vegas, NV, March 29, 2016 (Newswire.com) - ​Broke your phone or other electronic device? Planning to throw it away? Not so fast! Go Gadgets Phone Repair can either repair your phone or buy it from you! Many people think just because they have a cracked screen their phone or tablet is trash. The truth is there are many businesses that will be happy to repair or purchase your device even if it is broken and Go Gadgets is one of the highest rated of those businesses.
Go Gadgets has excellent reviews on both Yelp and Google. They are commended for their customer service, guaranteed lowest prices and quick turn around time.
One Go Gadgets customer was quoted saying: "Great fast service. Got my iPhone screen and LCD repaired in less then 10 minutes. Also got hooked up for cheap on a glass screen protector also. Would recommend, much cheaper then everywhere I looked in town."
-Yelp Reviewer: PJ B.
So if you need your phone or other device repaired quickly go to Go Gadgets. Whether it is an iphone, galaxy, note or other broken phone, let Go Gadgets help!
Share: